The International Journal of Serious Games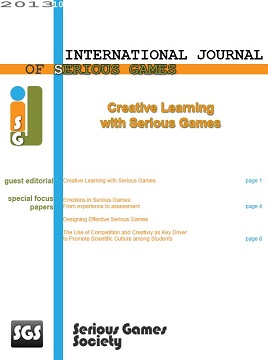 The IJSG publishes original, peer-reviewed, scientific research articles addressing theoretical, experimental and operational aspects in the areas related to design, development, engineering, deployment and assessment of Serious Games (SGs).
IJSG aims at being a high-level reference point for a growing academic and industrial community, providing innovative research ideas and application results, reporting on pressing challenges and leading-edge research.
The journal encourages submission of manuscripts that enhance foundations of game-based learning and SG design, present new technological solutions aimed to improve teaching and learning, and/or provide user studies about deployment of SGs in instructional or training settings.
All papers should advance the state of the art. Empirical studies are strongly encouraged. Papers may be one of several types: research paper; tutorial/survey; research note/short paper; addendum/corrections. Additional material can be added as software/algorithms; datasets. 
By publishing high quality scientific and technological research papers, the IJSG intends to address the need for scientific and engineering methods for building games as effective learning tools.
Publisher: Serious Games Society
ISSN:  2384-8766
Doi prefix: 10.17083/IJSG 
The IJSG is published quarterly. Information for authors is available here.
Since the beginning of 2015, IJSG is indexed by the Emerging Sources Citation Index (ESCI), in the Web of Science Core Collection. Master journal list
Since the beginning of 2020, IJSG is indexed by Scopus IJSG page.
Please leave a feedback on our papers on Facebook!
Serious Games Society: Official Page, Discussion Group.